Monster in the Park by Greg Ryan
A puzzle game for kids where you try to capture the cute monster. Put the playground pieces around the park to build a path to the monster. Lots of different obstacles and levels of difficulty make this a puzzling game with a fun theme.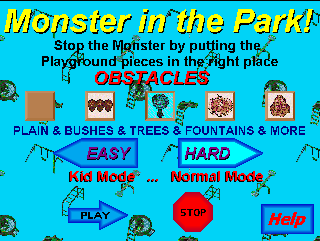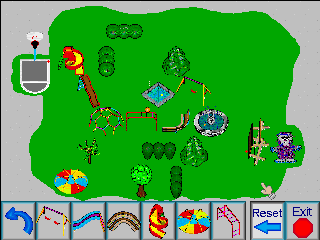 The Mystery Egg is a 5 Level Puzzle game where you try to figure out how to open up the Easter Egg. Each Level has a different type of Puzzle, and some are a little tricky. Kids may need help from their parents for this one, or vice versa.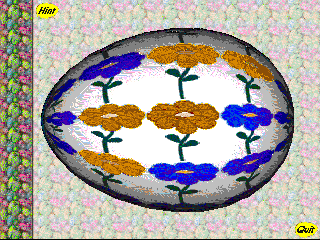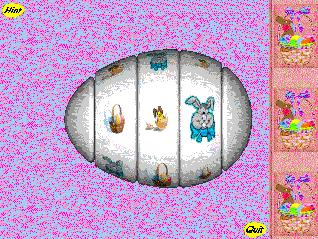 Kid's Pumpkin Puzzles by Greg Ryan
Put together the pumpkin, but make sure his face matches or the goolies might get you. Full of music, sounds, and animations to put you in the Halloween spirit with 4 different
faces.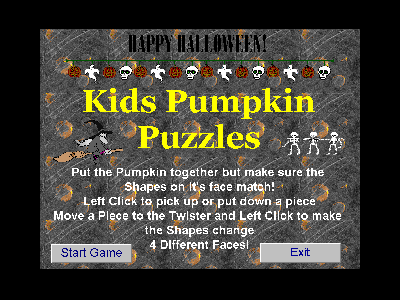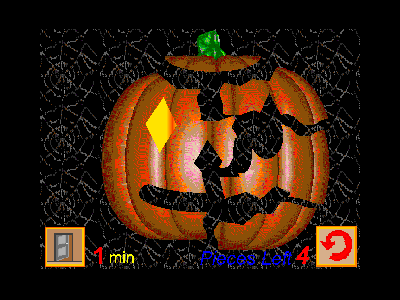 3D Pumpkin Puzzles by Greg Ryan
Put together some 3 dimensional puzzles of broken pumpkins. And you don't need to pick up the seeds either. Three different puzzles each with three levels of difficulty make this hauntingly good for all ages. Full of music, sounds, and animations to put you in the Halloween spirit.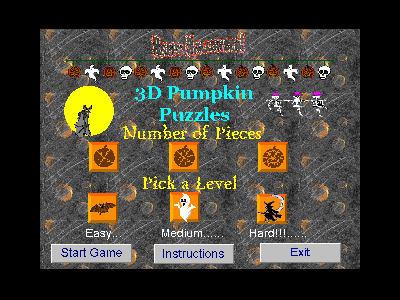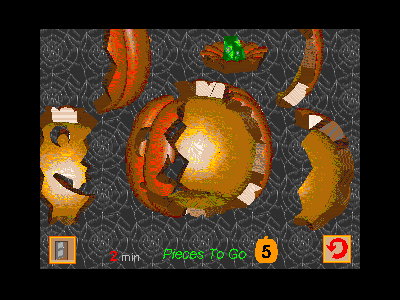 This kid's game teaches your children about mapping, using one of their favorite subjects - trains! You have to build a set of tracks to get the train to its shed, while avoiding mountains and crossing bridges. The game is easily mouse-driven for pre-readers. There are four different sets of obstacles, and two levels of play. The hard level will make you move fast, 'cuz the train is anxious to go home!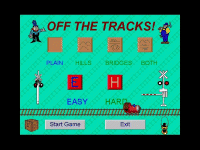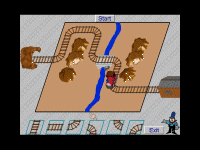 Valentine Puzzles '98 by Greg Ryan
Set of 3 Valentine themed picture puzzles that can be played at 3 different levels of difficulty. The Easy level is for kids and is a simple drag and drop puzzle. The Medium level makes you rotate the pieces to the correct orientation before they'll fit in the puzzle. The Hard level will randomly rotated any unplaced pieces every 20 seconds to make the puzzles even harder. Since every piece of the puzzle is identical in shape and symmetrical, it's harder than it sounds. Lots of music, animations, and sounds to get you into the Valentine's Day Spirit.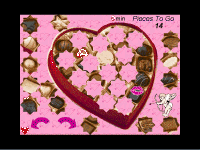 Move Santa's Reindeer through nine different mazes. Each maze changes everytime you play it, and kids can use either the mouse or keyboard to move through the mazes. Every maze is in a different theme, and includes Christmas music, sound effects, and animations.
Greg says "I wrote it for my 3 1/2 year
old twin boys... my kids like it alot. It's pretty easy to play for the most part."